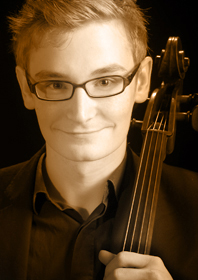 Alexander Hersh, Cello 2014-2015
At age 23, Hersh is quickly becoming one of today's rising stars in the world of classical music, having recently made his symphony hall debut with the Boston Pops Orchestra and his Kennedy Center debut in the spring of 2015. Alexander has received numerous awards as both a soloist and as a chamber musician, including the Hellam Young Artists' Competition, Boston Pops/New England Conservatory Competition, and New England Conservatory Honors Competition. In the summer of 2014, he served as principal cellist for the Lucerne Festival Academy Orchestra in Switzerland. In May, Hersh received his B.M. from New England Conservatory with academic honors. He is currently pursuing his M.M. at New England Conservatory under the tutelage of Paul Katz.
Born into a family of string players, Alex is the 4th generation to play an instrument. His father, Stefan Hersh, and mother, Roberta Freier are both active professional violinists. His grandfather Paul Hersh, teaches piano and viola at the San Francisco Conservatory of Music, and his great grandfather, Ralph Hersh, was the violist in the Stuyvesant quartet and Principal violist in the Dallas and Atlanta Symphony Orchestras.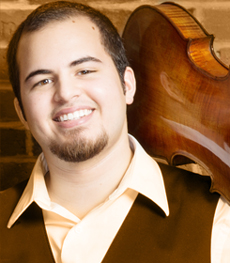 Steven Laraia, Viola 2013-2014
Described by the Boston Musical Intelligencer as a violist who "brings personality to his viola's distinctive deep, warm voice," Steven O. Laraia is Principal Violist of the Sarasota Orchestra & a member of the Sarasota String Quartet. Steven has collaborated with such artists as Miriam Fried, Kim Kashkashian, Roger Tapping, Soovin Kim, Bonnie Hampton, and Ida Kavafian, among others. Laraia recieved his Bachelors & Masters of Music from the New England Conservatory and was the recipient of the 2012-2014 Abraham Skernick Memorial Presidential Scholarship. During his time at NEC, Steven won the 2012 NEC Concerto Competition, 1st Prize in the 2014 Hellam Young Artists'Competition, 2nd Prize in the 2012 MUSICCAS International Young Artists Competition, the 2014 Borromeo Guest Artist Award and was a 3rd place laureate in the 11th Annual Sphinx Competition
---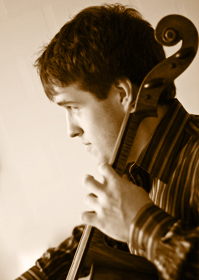 Matthew Allen, Cello 2012-2013
Due to an injury, Matthew never performed with the SSO and the last information is that he is still unable to perform.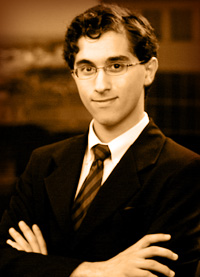 Kyle Orth, Piano 2011-2012
A distinguished competitor, Mr. Orth holds over twenty first-place wins in local, national, and international music competitions. He was named National First-Place Winner in the Music Teachers National Association (MTNA) Yamaha Senior Piano Competition. Other triumphs include First Prize at the Dallas International Piano Competition, the Lennox International Young Artist's Competition, the Dallas Symphony Orchestra Lynn Harrell Concerto Competition, the Midland-Odessa National Young Artist Competition, and the Hellam Young Artists' Competition. He also received top prizes in the Kingsville International Young Performers Competitions, the Corpus Christi International Piano Competition, and the Wideman International Piano Competition.
He was accepted on scholarship to the New England Conservatory of Music in Boston, where he is pursuing his graduate degree with Russell Sherman and Wha Kyung Byun.
---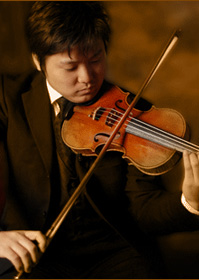 Siwoo Kim, Violin 2010-2011
Siwoo Kim is an "incisive" and "compelling" (The New York Times) violinist who performs as soloist and chamber musician. Siwoo made his New York concerto debut at Carnegie Hall – Stern Auditorium with James DePreist and the Juilliard Orchestra. In addition, he has given concerto performances with the Columbus, Houston, Springfield (MO), and Tulsa symphony orchestras, among others. Highlights from the last season include the world premiere performance of Samuel Adler's first violin concerto and a Walt Disney Concert Hall concerto debut.He has been named top prizewinner in the California, Chengdu, Crescendo, Hellam, Ima Hogg, Juilliard, Schadt, Sejong, and WAMSO competitions.
Siwoo received both his undergraduate and graduate degrees from The Juilliard School. As the recipient of the Elsie and Walter W. Naumburg Scholarship, he led the Juilliard Orchestra as concertmaster and studied with Robert Mann, Donald Weilerstein, and Ronald Copes. Siwoo studied with Roland and Almita Vamos at The Music Institute of Chicago. Mr. Kim is the founding artistic director of VIVO Music Festival.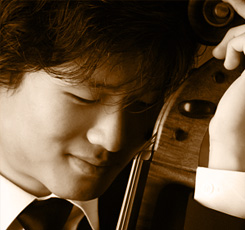 Han Bin Yoon, Cello 2009-2010
As the winner of the 2010 Hellam Young Artists' Competition, Han Bin performed with the Springfield (MO) Symphony and has previously appeared as guest soloist with several other American orchestras. In spring 2012, Han Bin took part in the inaugural Piatigorsky International Cello Festival, the International Musicians Seminar Prussia Cove (U.K.), and the Académie Musicale de Villecroze (France), working privately with renowned cellists Steven Isserlis and Frans Helmerson. A devoted chamber musician, Han Bin has performed in summer music festivals.
---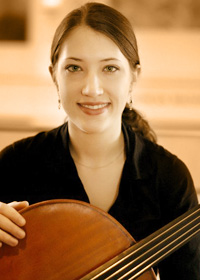 Madeleine Kabat, Cello 2008-2009
She recently made her solo debut at the Kennedy Center in Washington DC, stepped in for delayed cello soloist Alban Gerhardt on a few hours notice to rehearse Prokofiev's Symphony-Concerto with the Madison Symphony, and in April performed Dvorak's Cello Concerto with the Springfield Symphony in Missouri as a last minute replacement for their injured soloist. Madeleine currently serves as Visiting Artist at La Sierra University in Riverside, CA, where she has performed chamber music and solo repertoire biannually as guest artist for the past five years. Last summer she performed at the Lakes Area Music Festival as principal cellist, at Festival Mozaic in California for a sixth season, and was on the faculty of the Renova Chamber Music Festival in Pennsylvania for a second season. She has appeared as guest principal cellist with the Orquesta Philarmonia Mexico, Madison Symphony, Mansfield Symphony, and CityMusic Cleveland, and currently serves as principal cellist of the Amarillo Symphony in Texas. Ms. Kabat began cello lessons in Cleveland at age 11, and has won top prizes in the competitions of Fischoff, Hellam, and Klein International. She holds diplomas from the Cleveland Institute of Music, Rice University, the Juilliard School, and most recently Oberlin Conservatory, where she was a teaching assistant for Professor Darrett Adkins.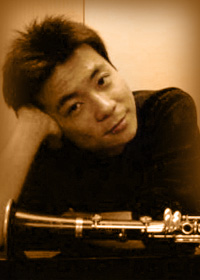 Yao Guang Zhail, Clarinet 2007-2008
As of the 2016-2017 season will join the Baltimore Symphony Orchestra as Principal Clarinet.
Winner of the Hellam Young Artists' Competition, Aspen Music Festival Concerto Competition, the Blount-Slawson Young Artists Competition, Pacific Symphony Concerto Competition, and the Spotlight Award, Yao Guang Zhai joined the Toronto Symphony Orchestra (TSO) as Associate Principal Clarinet in 2011. As a soloist, he has performed with the TSO, Shanghai Symphony Orchestra, Pacific Symphony Orchestra, Montgomery Symphony Orchestra, American Academy of Conducting Orchestra in Aspen, and the Springfield Symphony Orchestra (MO). He has also performed at the Hong Kong International Chamber Music Festival invited by violinist Cho-Liang Lin, Music From Angel Fire Festival invited by violinist Ida Kavafian, Laguna Beach Chamber Music Festival invited by pianist Christopher O'Riley, Aspen Music Festival, Pacific Music Festival in Japan, Beijing International Clarinet Festival, and the Toronto Summer Music Festival. In 2009 he represented the Curtis Institute on a tour of the US as solo and chamber clarinetist. Upon graduating from the Curtis Institute that same year, Yao was the principal clarinet of the Shanghai Symphony Orchestra in China for two seasons.
---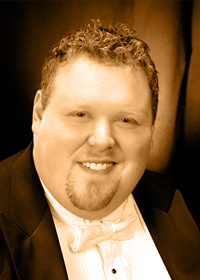 Ben Gulley, Tenor 2007-2008
His resume includes performances with the Lyric Opera of Kansas City, UMKC Conservatory of Music and Dance, Opera in the Ozarks, Chautauqua Opera, Minnesota Concert Opera and Cedar Rapids Opera. Gulley has also received awards from music festivals from around the country.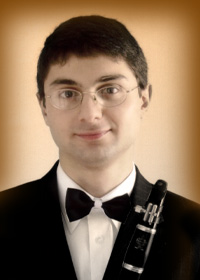 Boris Allakhverdyan, Clarinet 2006-2007
Boris Allakhverdyan was appointed Principal Clarinet of the Metropolitan Opera Orchestra in 2013. Prior to this, he was Associate Principal Clarinet of the Kansas City Symphony for four years. Mr. Allakhverdyan is a founding member of the Prima Trio, the Grand Prize and the Gold Medal winner of
the prestigious 2007 Fischoff National Chamber Music Competition.
Boris Allakhverdyan has appeared as a soloist with the Seattle Symphony Orchestra, Springfield Symphony Orchestra (MO), the Kremlin Chamber Orchestra and the Oberlin Chamber Orchestra. He has performed with The Cleveland Orchestra and the Los Angeles Philharmonic, and has participated in the Lucerne Festival Academy in Switzerland, the Mecklenburg-Vorpommen Festival in Germany and the Emilia Romagna Music Festival in Italy. Mr. Allakhverdyan is a winner of Rimsky-Korsakov International Woodwind Competition, Rozanov International Clarinet Competition, Hellam Young Artists' Competition, the Tuesday Musical and the Oberlin Concerto competitions.
---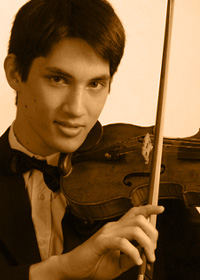 Alexander Sprung, Violin 2005-2006
Alexander successfully participated in numerous national and international competitions, both as a soloist and ensemble player. For his playing with a piano trio he received the Diethard-Wucher Memorial Prize. He was a special prizewinner of the Classical city of Münster and the WDR, as well as at the Carl Schroeder competition in Sondershausen, and at competitions in Italy and France. In 2006 he won the first Prize at the Hellam Young Artists' Competition and was invited to play with the Springfield Symphony Orchestra (MO).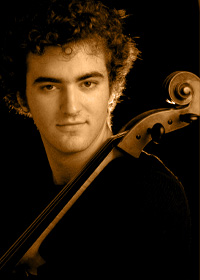 Paul Dwyer, Cello 2004-2005
Paul holds degrees from Oberlin Conservatory (B.M. '07) and the University of Michigan (D.M.A. '12), where he was Teaching Assistant to Richard Aaron. As a Fulbright Fellow, Paul studied privately with Anner Bylsma and Frances-Marie Uitti in Amsterdam. He recently completed additional graduate studies in historical performance at The Juilliard School. Growing up in Vienna, Austria, and Munich, Germany, Paul originally wanted to play the double bass, but was told he was too short. His explorations on the cello began soon thereafter: as a teenager, he co-founded a cello quartet dedicated to heavy metal music.
---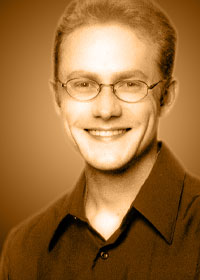 Dwight Parry, Oboe 2003-2004
Dwight Parry is entering his third season as the principal oboist of the Cincinnati Symphony Orchestra. In 2006-2007, he held the same position with the San Diego Symphony and before that was a fellow in the New World Symphony under the direction of Michael Tilson Thomas. He has performed with the Ojai Music Festival and is featured in soundtracks to several Hollywood movies. He is currently a member of the ground-breaking Cincinnati-based chamber players group, concert:nova. In addition to performance, Mr. Parry has a great interest in pedagogy. He serves as adjunct faculty at the Cincinnati College-Conservatory of Music and maintains his own private teaching studio.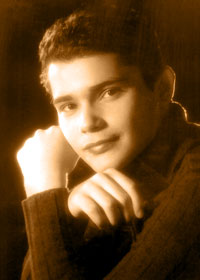 Aleyson Scopel, Piano 2002-2003
Aleyson Scopel is known for his insightful lyricism and refined technique as he imbues his interpretations with emotional charge. Aleyson constantly performs in the most prestigious halls of Brazil, often as soloist with leading orchestras, including the Brazilian Symphony Orchestra, the São Paulo Symphony Orchestra, and the Minas Gerais Philharmonic. He has made other guest appearances with the Springfield Symphony Orchestra (MO) and the New England Conservatory Symphony Orchestra in the United States, the Wollongong Symphony in Australia, as well as in solo and chamber settings.
---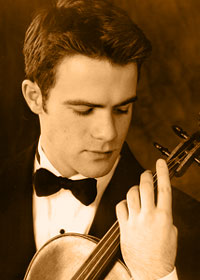 Eric Nowlin, Viola 2001-2002
Eric Nowlin, 35, will be the new principal viola at the Detroit Symphony Orchestra starting in the 2016-2017 season. Nowlin is currently associate principal viola for the Toronto Symphony Orchestra.
Violist Eric Nowlin has performed extensively throughout the United States as well as abroad. Past accomplishments include receiving first prize in the 2003 Irving Klein International String Competition; first prize in the 2002 Hellam Young Artists' Competition; grand prize in the 2001 Naftzger Young Artists Competition; and winner of the 2001 Juilliard Viola Concerto Competition, which led to a performance of Hindemith's Konzertmusik with Roberto Minzcuk conducting the Juilliard Orchestra in Alice Tully Hall.
Over recent months Leonard Slatkin has added a concertmaster and principal clarinet, flute, bass, timpani, percussion, cello and oboe.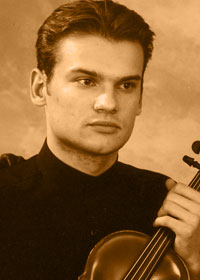 Aleksandr Snytkin, Violin 2001-2002
Aleksander Snytkin is currently a member of the Dallas Symphony Orchestra, and previously served as assistant concertmaster of the Bergen (Norway) Philharmonic and guest concertmaster of the Irving and Plano Symphony Orchestras. An active chamber musician, he has performed at festivals and in competitions in Lithuania, France, Sweden, Norway, Holland and other countries. He made his American debut performing the Brahms Violin Concerto with the Springfield (Missouri) Symphony Orchestra after winning the Hellam Young Artists' Competition. He received his bachelor's and master's degrees at the Lithuanian Music Academy and the Malmo (Sweden) Music Academy.
---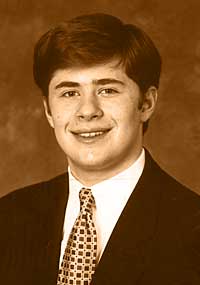 Vakhtang Kodanashvili, Piano 2000-2001
The native of Tbilisi, Georgia, Vakhtang Kodanashvili has appeared with IUSB Philharmonic, South Bend, Elkhart, La Porte, Springfield (Missouri), World Piano Festival, Spokane and Tbilisi Symphony orchestras, under the baton of Michael Esselstrom, Tsung Yeh, Philip Bauman, Gunther Schuller, Vakhtang Kakhidze and others.
In 2001, Vakhtang Kodanashvili made a New York City debut recital at Lincoln Center's Alice Tully Hall. This was a result of his victory at The World Piano Competition in Cincinnati, Ohio. Mr. Kodanashvili is also a first prize winner of The Hellam Young Artists' Competition in Springfield, Missouri, The Nena Wideman Piano Competition in Shreveport, Louisiana, and The Bartok-Kabalevsky-Prokofiev International Piano Competition in Radford, Virginia. Vakhtang earned both his bachelor and master of music degrees in piano performance at Indiana University South Bend and a doctor of musical arts in piano performance at Michigan State University College of Music.
He is currently on the faculty of Depaul University.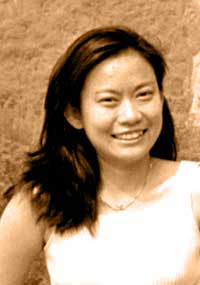 Shen Wen, Piano 1999-2000
Adjunct faculty on the St. Louis University music department.
---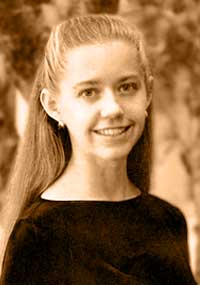 Megan Von Dreau, Marimba 1998-1999
Megan G. Von Dreau is currently the 5th and 6th grade music teacher for Eubanks Intermediate School. She is also a percussionist with the Lone Star Wind Orchestra, and a free-lance performer, adjudicator, and instructor in the Dallas area. Megan received degrees from the University of Colorado (B.M.) and the University of Oklahoma (M.M.). Her major instructors have been Dr. Richard Gipson, Dr. Doug Walter, Leigh Howard Stevens, Steve Yates and Ralph Hardimon. Megan has performed in the United States, Europe, and Japan. She has won two concerto competitions and performed Sarmientos' "Concerto para Marimba y Orquesta" in 2000 with the Springfield, MO Symphony Orchestra. She can be heard on the Lone Star Wind Orchestra release "American Tapestry" on the Naxos Label.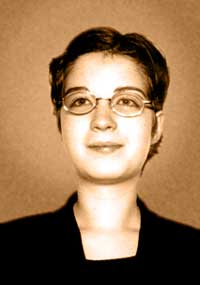 Plamena Kourtova, Piano 1998-1999
Professor in the Humanities Department, at Florida State University, Tallahassee, Florida.
---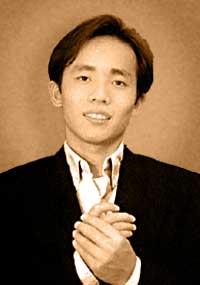 Tatsuya Nagashima, Piano 1997-1998
Born into a musical family – his father being an important figure in Taiwan as a pianist and his mother being a prominent opera singer – Tatsuya began playing the piano at the age of four. Shortly thereafter, his family moved to Tokyo – where he began his international performance career with a public recital at the age of nine.
Tatsuya Nagashima is increasingly in demand as a guest soloist with orchestras of international distinction.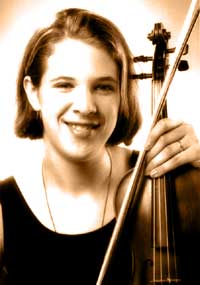 Sara Caswell, Violin 1996 -1997
Sara Caswell is an American jazz violinist, known for her work as a solo artist and as a collaborator in 9 Horses and the bands of Esperanza Spalding, and David Krakauer.
Born into a musical family in Bloomington, Indiana, Caswell studied classical violin with Josef Gingold, but from an early age was also taken with jazz, and learned from famed pedagogue David Baker, along with violinist John Blake and trumpeter Patrick Harbison.
After finishing her degrees at Indiana University and Manhattan School of Music, Caswell moved to New York full-time in the early 2000s at the behest of New York Pops conductor Skitch Henderson, where she still resides. While there, she formed a jazz quartet (featuring guitarist Jesse Lewis, bassist Ike Sturm, and drummer Jared Schonig) and continues to co-lead an ensemble with her sister, vocalist Rachel Caswell. She is currently an instructor at Manhattan School of Music and Berklee College of Music
---